Tips for cleaning after renovations

Whether you're planning something as simple as fitting an upgrade to your kitchen, or something more drastic along the lines of knocking through a wall to improve the flow of your home; whatever work you're carrying out, you'll undoubtedly leave a reasonable mess to clear up. The dust that comes hand in hand with building work gets everywhere and you'll undoubtedly be finding plaster for weeks after. In order to keep your home clean, and shorten the mess time you'll have to endure, here are our top tips on how to clean up before the dust settles.


Clear the area
It might seem like an obvious suggestion, but ensure you move everything that is removable. Before your renovation you should remove everything possible such as ornaments, lamp shades, curtains, etc. If you don't take them away before the renovation begins, then remove them before you start cleaning and clean them separately to ensure you get rid of all the dust and dirt.


Wipe down everything
Use a wet cloth to wipe down the walls, the furniture, the skirting boards, the windows and ledges, the floor, your ornaments, the doors, the door handles, the light fixtures. You might think it sounds like overkill, however the dust truly does get everywhere. You might not think a surface looks overly dirty, but still give it a wipe. The last thing you want is to leave apparent 'clean' areas, only for the slightest of dust to begin spreading around your room.


Vacuum awareness
A lot of plaster and dust can damage many vacuums such as a Dyson or Henry, so be aware that they might not last long after the cleaning. It is possible to hire industrial vacuums and these will make light work of your mess, whilst ensuring your household hoover doesn't get clogged up. After wiping everything down, you need to vacuum as well. This includes the walls, all ledges and the floor.


Give it a mop
Mop wooden or tiled floors after vacuuming. Make sure you mop after vacuuming because it makes the dust wet which the vacuum won't like, and will struggle to pick up. Mopping should get rid of the last of the dirt but wipe the floor with a dry cloth afterwards to make sure.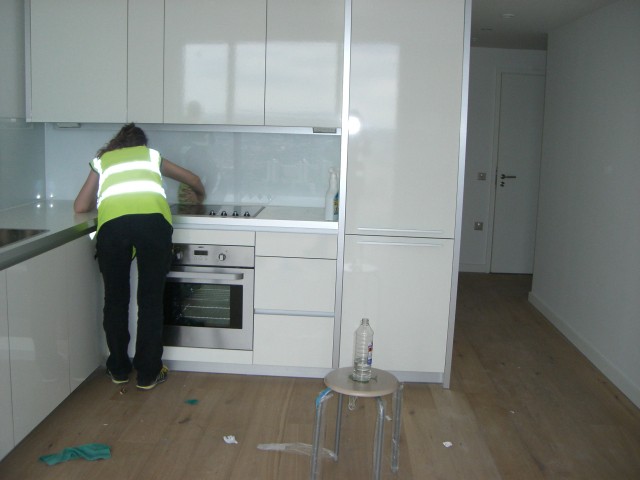 Leave the floors until last
As you clean the walls and the windows it'll cause dust and dirt to fall onto the floor. So there's no point in cleaning the floor until you've cleaned everywhere else. Do it logically to prevent making more work for yourself further down the line.


Keep checking back
After a renovation, the dust can take a couple of weeks to settle so make sure you keep checking back every few days and do a brief clean to stop the dirt building up. After a few weeks do a big clean again to make sure all the building dust is gone. It may take a couple of weeks and a lot of cleaning but now you are free to enjoy your new renovation without inhaling dust and dirt. Enjoy you new, clean home.
By continuing to use the site, you agree to the use of cookies. more information
The cookie settings on this website are set to "allow cookies" to give you the best browsing experience possible. If you continue to use this website without changing your cookie settings or you click "Accept" below then you are consenting to this.